9 Night New England Fall Color Cruise
SOLD OUT
Join us for 9 nights and fun-filled days as we tour New England for our Fall Color Cruise aboard Adventurer of the Seas.
The itinerary includes departure and return from Cape Liberty, NJ with stops in Boston, Bar Harbor, Portland, Saint John and Halifax.
Departing September 15, 2022.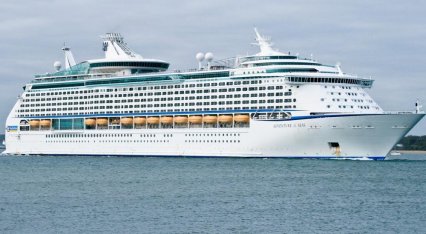 Sewing machines are provided by our sponsor as well as complete project kits.
Please note: Our cruises are limited to 20-25 participants in order for Patrick and other instructors to have one-on-one time with everyone. Reservations are confirmed on a first-come, first-served basis. Your reservation is not confirmed until your initial deposit is received. Please call 623-414-9464 to make your deposit after you register online.
Price includes cruise fare, port fees, taxes, gratuities and on-board activities.
• Travel protection is required for an additional fee per person of $119 - $249 based on stateroom selection.
• Airfare, shuttle fares and host hotel charges are not included. Patrick Lose Studios arranges host hotel and and shuttle service to and from the port for an additional fee, but you are not required to use our choices if you'd like to arrange these on your own.
• A $500.00 deposit is due at the time of registration. All rates are based on double occupancy. If you need a roommate, let us know and we will assist you with locating other guests seeking a stateroom companion
• Payment plans are available, including our new, branded Patrick Lose Studios credit card.
Ask about our no-interest-for-12-months option if you are approved for the new card.
All prices are based on double occupancy and valid through July, 2021
Balcony Stateroom: $2947.01 per person (Double Occupancy)
Limited availability. Book Soon!
Spouse/ Non Participant: $2547.01
Ocean View Stateroom: Not Available SOLD OUT
Inside/Interior Stateroom: Not Available SOLD OUT

Single occupancy requests are subject to availability

Fare includes project kits, instruction, Patrick Lose Studios activities and parties, cruise fare, port fees, taxes, on-board entertainment and amenities, gratuities, cruise line complimentary food and dining, room service. Host Hotel, Airfare, and Shuttle service are additional fees. Travel protection is required. Fees vary based on stateroom selection and range between 119.00 and 249.00 dollars. WiFi service is available on this ship for an additional fee. FINAL PAYMENTS DUE May 1, 2022


For Cruises Departing from All U.S. Homeports including San Juan, Puerto Rico
All Royal Caribbean guests age 12 and older must present proof of COVID-19 vaccination, with the final dose of their vaccine administered at least 14 days before sailing.
Each guest's regimen must include at least two doses of vaccine unless the guest received the single dose Johnson & Johnson vaccine. This guidance is per the U.S. CDC, and no exceptions will be made, even if the guest's resident country has authorized a single-shot regimen for a two dose vaccine. We will continually evaluate these requirements and make updates as local public health standards evolve.
For guests departing from Florida homeports, this vaccine requirement is the policy of several international governments for a cruise ship to enter their waters. We remain in contact with local governments in the ports we visit and will update the policy if advised.
Guests under the age of this requirement don't need to be vaccinated and will complete COVID-19 testing requirements depending on the length and departure port of their sailing.
CLICK HERE TO REGISTER