Skip Navigation
Website Accessibility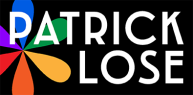 Shopping at PatrickLose.com
S
Shipmentshipping

delays




Choose

your method of payment
Although PayPal processes our payments for your security, you do NOT need to have a PayPal account to shop. You'll be given the opportunity at checkout to use your credit card OR your PayPal account, if you have one and would like to use it. Easy, secure shopping!



Shipments will be delayed

during the month of August, 2023

. Some shipments may take up to 30 days. Please contact Gary if you have any questions or would like to inquire about the shipping status of your order. Email to gary@patricklose.com

Checkout
You DO NOT need a PayPal account to order from us. PayPal only processes our payments and you will be given the chance to use your credit card of choice at checkout.

When you check out using your credit card OR PayPal account, the total of your order is charged to the method of payment. We review your order for accuracy and make sure anything you've ordered is ready to be shipped. We may even be able to find a more economical way to ship your order than what was calculated and, in that case, will adjust your order total to reflect the lower price. Please provide a valid phone number so that we may contact you if we have any questions.

International orders are not charged for shipping until we complete the order and calculate the charges. You will be contacted by email with the shipping charges to be paid before the order can be shipped.

Shipping
All orders are shipped by FedEx Ground or Express, in most cases. Smaller orders, such as printed patterns, are shipped First Class USPS.

Shipping charges are not calculated at the time of checkout for international orders. If your order will be shipped outside of the U.S., you will be notified by email with the correct shipping charges and a request for payment of the charges will be sent by PayPal. Once shipping is paid, your order will be shipped.